What do you want in a home kitchen design or renovation?
You might be surprised about the trends in home kitchen design for 2019. Some are old, others are new. Whether you're planning to stay in your home or list it in the coming year, a trophy kitchen can make mealtime a joy and – if you're planning a move – it will help sell your home better than anything else. If you integrate these 10 thoughtful tips in your home kitchen design or renovation, you'll create a space that's functional and will command top dollar when it's time to sell.
1. The right kitchen counters

For home chefs or anyone who loves to cook, you probably require more counter space than you currently have. Even if you don't like to cook, make sure you add a long counter along with one between the range and sink. Also, you might consider incorporating different counter top heights for each. That will make baking easy and help young children who want to prepare meals with mommy or daddy. Not only will your kitchen look updated and polished, it will also be fully functional, with an organic flow from prep-to-entertaining.
2. Include your family room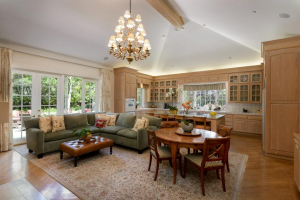 For those who have or want to create an open concept floor plan, think about including your family room in your design or renovation plans. I'm not suggesting you make your family room into a kitchen, I'm just saying there are many ways to unify both rooms. One idea is having an open kitchen like the ones at some fine restaurants. That way, the conversation can flow even during prep time.
3. Bring new life into a forgotten corner

There are so many ways to fill a forgotten corner of your home kitchen. The first step is to spot them. Once that's done, let your imagination run wild, or call your favorite interior decorator for his or her suggestions. Add shelves. Place a cozy table and chairs in the corner. Set a big plant there. The options are endless.
4. Add storage space for your technology

The kitchen is the perfect place to add storage space for all your family's technology equipment. Hide those cords, printers, chargers, routers in a special drawer built just for technology. Install cutouts in the back of the drawer to hide all the unsightly cords that can make a homeowner go nuts!
5. Create places to show off your fine china

Don't wait until a special occasion to show off your fine china. Use your storage spaces as a way to display them. Your collection deserves its 15 minutes of fame. Set up the collection in an open cabinet or on a shelf. If you group similar colors or same-function things together, you will create a real up-to-date look. And who knows, by seeing it you may be inclined to use it more.
6. Don't forget to add large walkways

According to the experts, kitchen walkways need to be at least 36" wide, 42" when inside the cooking zone if we're talking one cook, and 48" for two or more home chefs. When planning your home kitchen design or remodel, move your kitchen islands accordingly to leave enough room. No one likes hanging out and cooking in a crowded kitchen space.
7. Don't be afraid to paint your kitchen green

The traditional white kitchen is out, replaced by kitchens painted green. In fact, green kitchens are all the rage today. Forget about the pea soup or avocado colors of yesteryear. Today's green kitchens range from mint to sage. Country Living Magazine has suggestions of 10 bright and beautiful green paint colors to try.
8. Think kid-friendly

If you have young children, consider keeping your cooktop out of reach. Also, make sure the refrigerator can be easily accessed by adults, not kids. If you prefer something fast, safe, and aesthetically pleasing, then you'll want to ruminate about induction cooking. Induction burners utilize little heat which means the surfaces of your cooktop will stay safe to the touch. Plus, these cooktops eliminate the need for a large range hood. Just imagine what you could do with all that extra room.
9. Think dog-friendly

For those of us with four-legged children, don't be embarrassed if you want to design a pet-friendly kitchen. Start by creating a dog-proof, closed cabinet for your trash. A two-can version will hold both trash and your recyclables. Second, use rollout bins to keep your pup's kibble easy-to-access but still out of his or her sight. You can even designate a specific pet cabinet to hold medicines and vitamins, toothbrushes and paste, flea and tick medicines, waste bags, grooming tools, treats, food and even your pet's medical records.
10. Quartz counter tops never go out of style

Forget about sealing and scrubbing your kitchen countertop. If you want something that requires less upkeep and offers timeless beauty and universal appeal, then you can't do any better than installing quartz. Besides, the shimmer will make you smile every morning.
---
Inspired by this list of home kitchen design trends for 2019? Considering a move? If so, let's discuss how renovations can increase your overall return on investment in your current home, and how they might increase your enjoyment of your new one. So, if you haven't already done so, check out the buyers and sellers sections of my website, then give me a call at +1 805.886.9378 or email me at Cristal@montecito-estate.com. We can even discuss how you can create a Pinterest worthy kitchen!
---