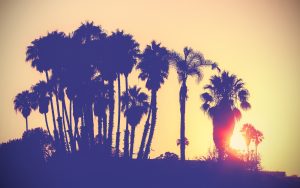 Mediterranean-inspired living spaces can be found in abundance here in Santa Barbara and the surrounding upscale communities. In fact, the lovely Mediterranean has long influenced many things in the U.S., especially here where we are blessed with warm ocean currents and palm-fringed beaches, framed by a dramatic mountain backdrop.
Our fine city has lush gardens and a whitewashed, red-roofed style of architecture that conjures images of another place and time. That's why we're affectionately referred to as the "American Rivera" by world travelers.
One of my favorite design publications, Houzz, has dedicated a section of their online design publication to the Mediterranean. Take a good look at these four exquisite rooms inspired by Greece, France, Spain, and Morocco, and just try not to fall head over heels. The best news is the article includes links to buy the items featured! Get out your credit card, now GO!
Fall in love with an oceanfront Greek villa and bring some of the article's well-chosen items into your own your living room. Think minimalist decor meets old-world charm with natural stone-look wallpaper and weathered pedestal bowls. Combine that with a Chambers Sleeper Sofa, in Patton White for $3,242 and a modern coffee table.
How about a Saint-Tropez-inspired Bathroom? Intricate tiles inspired by the ocean blues of Saint-Tropez make the perfect backdrop for a Mermaid 67″ Freestanding White Bathtub, Polished Chrome Tub Filler and Trim Kit at $3,500. Your bathroom will feel luxurious and quaint at the same time.
A Spanish-inspired Master Bedroom is a no-brainer for luxury homes in Santa Barbara. Use rich Moorish shades to achieve the intense, romantic style of southern Spain. Feature heavy furniture like a Giralda Dresser in Tobacco Finish for $2,757.
You can't go wrong with a Moroccan-inspired Kitchen. All you need is a cluster of beautiful hanging lanterns and a quatrefoil backsplash to give your kitchen a Moroccan feel. Start with a beautiful Moroccan Mosaic Table at $2,999 and then plan your kitchen around this amazing piece.

If you are looking to buy a new home where you can create Mediterranean inspired living spaces in Santa Barbara, Montecito or the surrounding communities, I am here to help. Check out my website for more information on amazing properties currently on the market then give me a call at 805.886.9378 or email me at Cristal@montecito-estate.com.