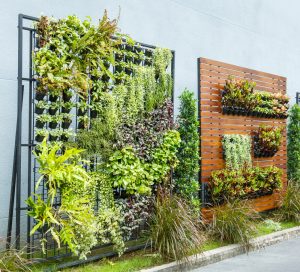 Our amazing Mediterranean climate is one of the many things that make living in Santa Barbara desirable and Santa Barbara gardens magical. So when I saw Realtor.com's story regarding outdoor décor ideas from around the world, I had to share it:
1) From Peru: Vertical gardens
By creating a vertical wall of plants in pots, you are channeling your inner Machu Picchu vibe. This easy to maintain wall garden comes from the ancient Incans. The Santa Barbara sunshine provides adequate light so that most greenery will work here. You'll also save on precious water as the top row flows to hydrate the plants below.
2) From Japan: Rock gardens
Creating a lovely rock garden is a beautiful idea here in Santa Barbara, especially in light of our continued drought. Just incorporate rocks, crushed granite, and hardy ground cover to create a contemplative outdoor space. Add a stone bench, lanterns, and other Asian elements to complete your personal oasis of calm.
3) From Mexico: Hardy succulents
Another drought resistant idea is to plant succulents. These plants have come on the scene like gangbusters in recent years. Once a niche plant, succulents can now be found everywhere: from office buildings to home greenhouses. There are many reasons why the succulent has become such a popular plant. They are extremely easy to take care of and are very tolerant of low water levels. They and often thrive in Santa Barbara gardens.
4) From France: Fields of lavender
You can't go wrong planting drought-resistant lavender here in Santa Barbara. These rugged, super-easy garden plants add bold color and texture in any landscape designs, and the scent is divine. Sow with other edibles like rosemary and sage for a stunning herb garden.
The article on Realtor.com has even more great outdoor décor ideas from around the world, perfect for Santa Barbara gardens beautifying homes and luxury estates in Montecito, Hope Ranch and the surrounding communities. If you are looking to move here and enjoy our Mediterranean climate, please take a look at my comprehensive website then call me at 805.886.9378 or email me at Cristal@montecito-estate.com. I also have all the intel on pocket listings in the area that are perfect for my discerning buyers.