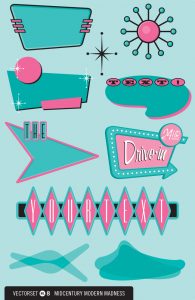 Midcentury continues to be a hot design style

Are you a fan of Midcentury Design? If the answer is yes, Curbed.com just published a list of 13 movies sets featuring midcentury architects and design icons that will give you inspiration and ideas to use in the design of your Santa Barbara home.
"Modern architecture itself may have left the public cold, but modern architecture in the movies caught its imagination by embodying . . . their fears, hopes, and aspirations," design curator Donald Albrecht wrote in his book Designing Dreams.
We all know by now that the cinema's cultural impact popularizes trends. In the '50s and '60s, that trend was Midcentury design and architecture, used by directors, set designers and stylists to symbolize the forward-thinking, modern, nature of those on screen. The list includes classic films of yesterday to modern period dramas of today. Here are three of my favorites from the list:
Pillow Talk (1959)
Composer and playboy (Rock Hudson) falls for a neighboring interior designer (Doris Day) since they're forced to share a telephone line due to high demand (can you even imagine that?) For the movie, Hudson's bachelor pad offers some forward-thinking touches, including a sleek spiral staircase.
Diamonds are Forever (1971)
James Bond movies always feature posh interiors. For Diamonds are Forever, the director used The Elrod House, a John Lautner beauty in Palm Springs as the winter retreat of billionaire Willard Whyte. The home's circular shape and dramatic ceiling, interspersed with "folds" of concrete that allowed in indirect light while blocking the harsh sun of the desert, was a nod to the site and its climate
The Big Lebowski (1998)
The real scene-stealer in this Coen Brothers' classic is the interior of pornographer and loan shark Jackie Treehorn. Frank Lloyd Wright associate John Lautner designed the magnificent residence, with a geometric concrete roof and dramatic overhang framing the pool. The Los Angeles Times reports the house was recently donated to Los Angeles County Museum of Art.
Today more than ever, midcentury design is everywhere, even right here in Santa Barbara. If you are a fan of the popular style and looking for the perfect home to express your passion for midcentury design in Montecito, Hope Ranch or any of Santa Barbara's upscale communities, please call me at 805.886.9378 or email me at Cristal@montecito-estate.com. Consistently rated in the top 1% of Sotheby's International Realty® agents nationwide for the past 25 years, I represent the highest level of clientele and specialize in the sale and acquisition of extraordinary estates and land here.